Securing Our Schools: Scylla and Konica Minolta Join Forces for Visual Weapon Detection

Albert Stepanyan
President and CEO at Scylla AI
Gun crime and active shooter situations worldwide
Gun violence and terror attacks involving assault rifles have become all too common worldwide, even in places with strict weapon bans. Even in Japan, known for its safety and discipline, gun violence has left its mark. A tragic example is the shooting of former Prime Minister Shinzo Abe during his campaign in July 2022. This serves as a sobering reminder that gun violence is a global issue that requires effective gun detection systems.
However, the severity of this problem is most evident in the United States, our home country. Gun-related incidents occur daily, sometimes multiple times a day. What is truly alarming is that many of these events take place in K-12 schools, endangering our children. Unfortunately, 2023 saw a significant increase in gun violence, with incidents now occurring in outdoor spaces such as parking lots and sports events.
Scylla AI is at the forefront of gun detection and visual weapon detection technology
We started as a gun detection company and have maintained our position as industry leaders through our innovative proprietary technology. We recently joined forces with Konica Minolta, one of Japan's oldest and most reputable technology providers, to expand our impact further.
This partnership aims to bring our visual weapon detection technology to schools all across the United States. With Konica Minolta's extensive network of technology experts, we can achieve nationwide coverage and help schools secure their premises. Together, we are committed to creating safer learning environments and protecting future generations from the threat of gun violence.
Traditional metal detectors, even those claiming to be "smart," fall short of addressing the real issue. According to the IPVM report, Evolv Express' false alert rate is 5–10%.
No matter how many metal detectors schools install, they are unable to effectively deal with dangerous situations like active shooter situations, especially in open areas like parking lots. The average response time to these events is approximately 15–18 minutes, every second counts in these critical moments. When an armed individual is on the loose and people are in need of help, those minutes feel like an eternity.
To change the game and shift the timeline in favor of safety, proactive solutions are necessary. We need to find ways to stop an active shooter before they even execute their tragic act.
Many of these events follow a pattern. In a significant number of cases, the individuals involved openly displayed their firearms at an early stage. While this is not a constant occurrence, it happens frequently enough. This behavior sheds light on the mindset of these individuals, who seek to cause maximum harm. They don't think like rational human beings; something is clearly wrong, and they demonstrate a complete disregard for consequences.
The motivation behind their actions is "fame" or "attention-seeking". They want to be noticed and be the center of attention, portraying themselves as the big, bad antagonist. It is as if they are saying, "Look at me. I'm the one causing mayhem. I'm here to leave a bloody scar.
How Scylla and Konica Minolta can make a difference
Scylla uses AI and computer vision to detect a firearm with high accuracy. All true and false positives are analyzed by foundation models, which further refine the results of the system.
Proactive measures such as gun detection AI become crucial in identifying potential threats before they escalate into active shooter situations. By leveraging advanced technology, we aim to prevent such tragedies and protect our communities.
As we explored this issue, it became apparent that security cameras are reactive rather than proactive. So, why not leverage these cameras to detect firearms? When a gun is detected, an alert can be sent out, and this makes all the difference. First responders, who are crucial in ensuring safety, immediately receive the alert, along with the people present on campus or in the vicinity. These timely alerts help guide people to safety and set the first responders in motion.
Why are these alerts so vital for first responders? It is all about actionable intelligence. With the information provided by gun detection AI, first responders have a clear picture of the situation. They know whether it is a pistol or a rifle, how many shooters are involved, and even what the suspects look like. This level of information significantly eases the challenging task faced by first responders. When rushing to an active shooter situation, it is natural for them to be disoriented in a "fog of war" trying to make sense of all the messy information coming through. However, having more intelligence before they enter the scene, including detailed descriptions and precise locations, reduces response time and ultimately saves lives.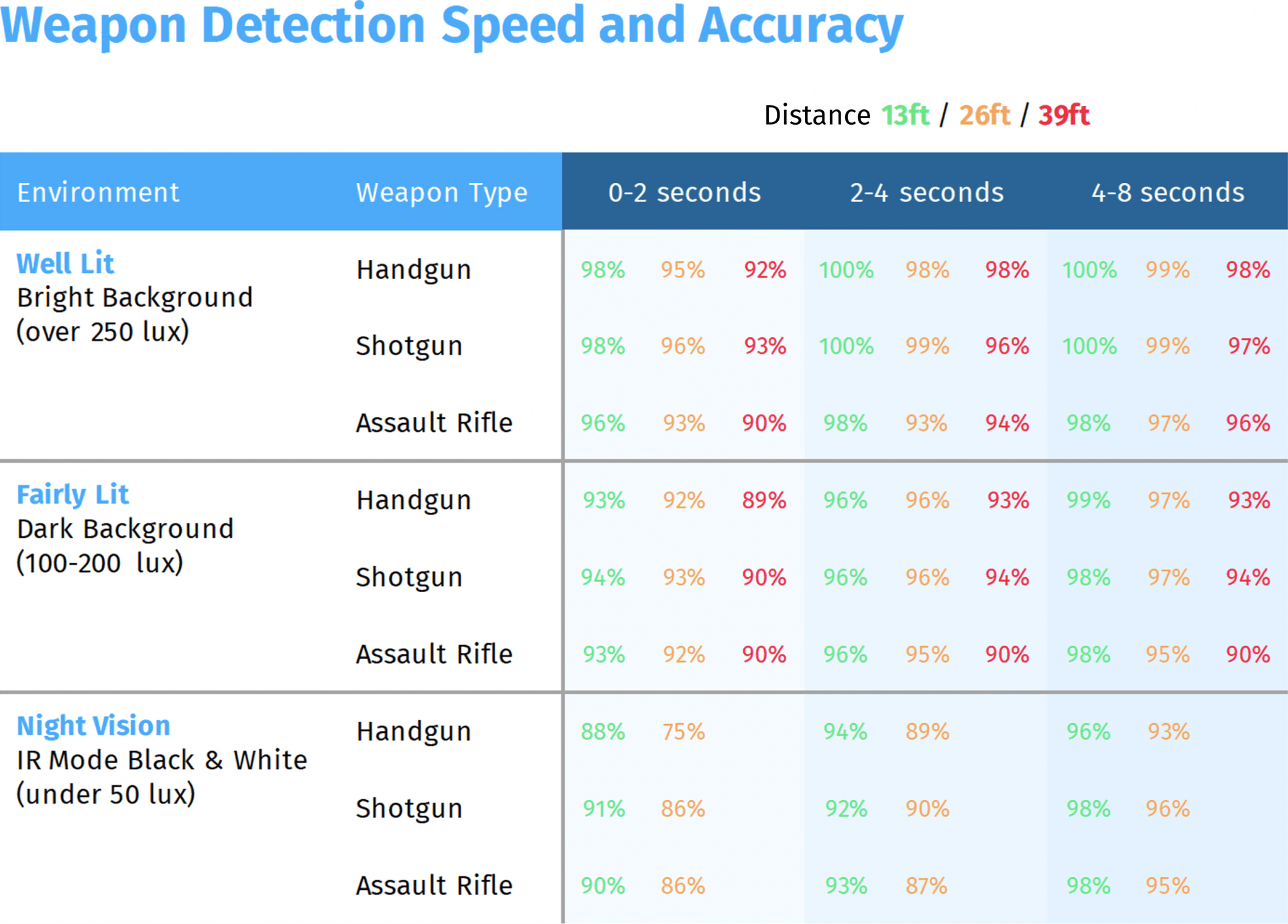 So, how do we make all of this possible? Scylla has undergone official benchmarking by numerous organizations including Konica Minolta, where we have been compared to the competition. We created a high-functioning, market-tested AI model, but we have also eliminated the need for human-in-the-loop verification. Many customers prefer to keep their data in-house and have on-site operators monitoring events. They want sensitive information to remain within their school data centers, moreover having human in the loop causes detection latency and that can cost lives. However, for this to work effectively, having high-quality data and the industry's best talent is crucial. We have developed a reputation as an engineers-driven company, and we get the best people to work with us.
Moreover, it is not just about the theories and academic background of our engineers; it is about making these technologies work in the real world. This is where real-world model testing -adversarial attacks, tackling issues such as frame drop, video stabilization, and proprietary streamer come into play. Guess what, we have developed all of that in-house.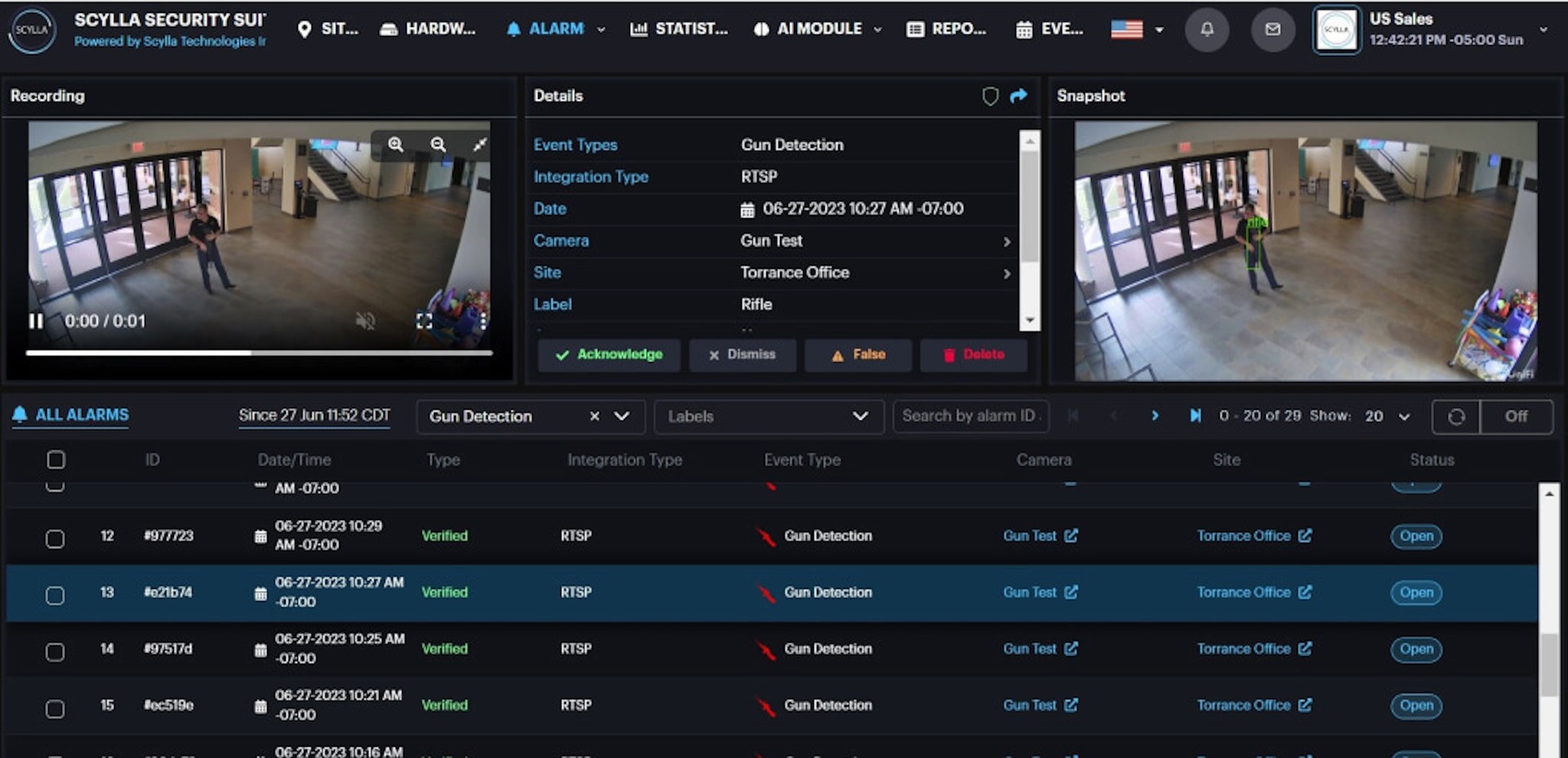 What excites me more is that our technology is not limited to detection alone; it can also create distractions. By using external IO outputs on our Asteria Edge devices we can divert potential shooters' attention enabling speakers on the cameras or even releasing a smoke, and even for a few seconds, we can make a critical difference and save lives. This approach works indoors and outdoors, providing a comprehensive solution for safety.
Enhancing safety across sectors
Our commitment does not end with schools. We are on a mission to enhance safety across various sectors. Currently, our technology is making a difference in countless hospitals throughout the country. We are using our fight detection system to protect nurses from potential violence, ensuring they can carry out their vital work in a secure environment. Additionally, we are preventing accidental slips and falls among elderly patients, providing peace of mind to both patients and their families.
Beyond healthcare, we are at the forefront of securing sports arenas. Our intrusion detection system keeps fans safe during their favorite events, allowing them to focus on enjoying the game with peace of mind.
In the great outdoors, we are taking steps to safeguard our forests from the devastating threat of wildfires. By detecting potential sources of ignition early on, we can prevent wildfires from spreading and minimize the damage they cause to our natural resources.
Gun detection and visual weapon detection are not just buzzwords for us. They represent real-world solutions to protect and secure our communities. Our technology is constantly evolving, and we remain committed to staying at the forefront of the industry. We will continue to push the boundaries of what is possible and work towards a future where gun violence is a thing of the past.
Stay up to date with all of new stories
Scylla Technologies Inc needs the contact information you provide to us to contact you about our products and services. You may unsubscribe from these communications at any time. For information on how to unsubscribe, as well as our privacy practices and commitment to protecting your privacy, please review our Privacy Policy.